Positive Outlook
With the favorable demographics and the Universal Healthcare Plan, the outlook for Vietnam's pharmaceutical and healthcare market is very positive. In 2021, Vietnam's healthcare spending was $205.6 per capita. According to Fitch Solutions, the forecasted number in 2026F will reach $289.9 per capita, implying a CAGR of 7%. Currently, Vietnam's spending per capita is relatively lower in ASEAN. According to Worldbank, Thailand and Malaysia reported a spending per capita of 64% and 142% higher than Vietnam respectively in 2019. Vietnam's healthcare spending has a large room to grow.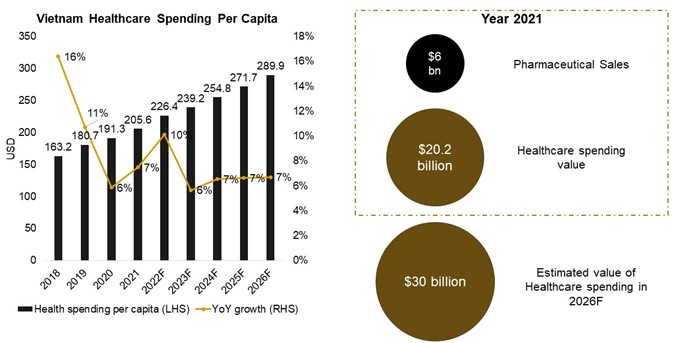 (Source: World Bank, Fitch Solution, PHFM compilation)
Two growth drivers for Vietnam's healthcare sector: (1) the Aging Population and (2) the Growing GDP per capita are two major drivers of Healthcare industry. Vietnam now is benefiting from its young age population structure. According to GSO (Vietnam General Statistics Office), in 2021, Vietnam has 50.5 million population of working-age, equivalent to 51% of the total population. Soon this country will face the aging population problem in the upcoming years. In Vietnam, the population under 15 years in 2000 is 31.6% but the number had reduced to 24.3% in 2019. Meanwhile, the aged population is inevitably increasing with the population over 60 years rose from 8.2% in 2000 to 11.9% in 2019. According to Fitch Solution, the population over 65 years (non-working-age population) will be 9.8% in 2025F.
(Source: GSO, World Bank, Fitch Solution, PHFM compilation)
The rising income will increase healthcare spending. In 2021, the GDP per capita is $3,694. According to the Vietnam Ministry of Planning, if Vietnam's GDP has an average growth of 6.63% in the period 2021 – 2030, GDP per capita in 2030F will reach $7,000. Assuming that healthcare spending per capita has a strong correlation with GDP per capita, the rising disposable income implies a high growth space of the healthcare industry. According to the World Bank Data, in 2019, developed countries like Korea and Japan have healthcare expenditures of 8.2% and 10.7% respectively, much higher than Vietnam's 5.2% in the same year.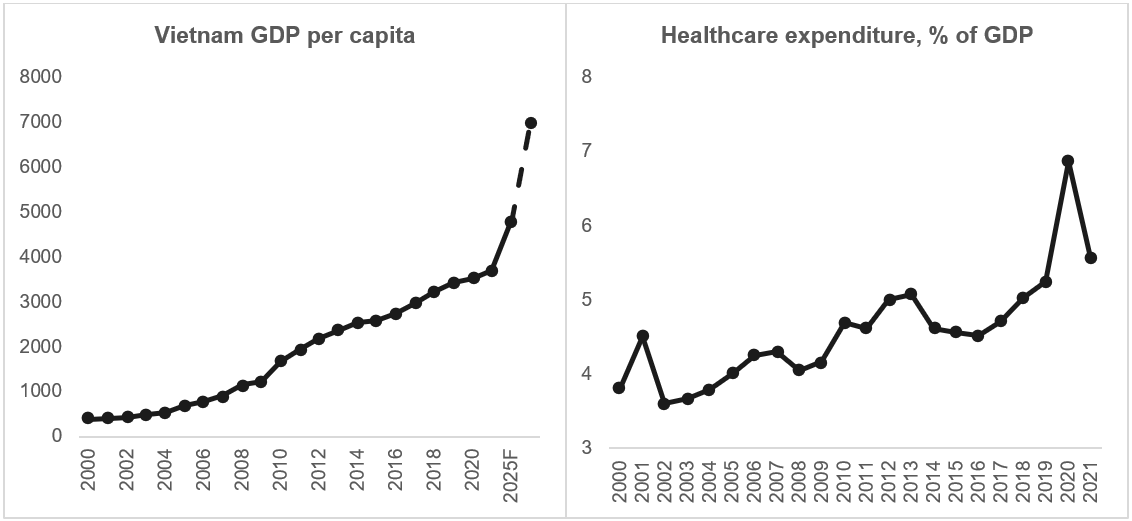 (Source: WB, MPI, Vietnamnet, Tuoitre, PHFM compilation)
Current Trends in Vietnam's Pharmaceutical and Healthcare Sectors
The Vietnam government aims to have the share of domestic pharmaceutical production at 80%. Currently, an average of 55% of medicines in Vietnam are imported every year because of two reasons: (1) lacking R&D capabilities of domestic companies and (2) reliance on imported ingredients. Vietnam imports ~90% of the active pharmaceutical ingredients for medicine production. Therefore, to increase the independence of drug production, the government supports the localization of medicine production. Domestic pharma companies are potential targets for strategic foreign investors who want to have quick local access through existing manufacturing and distribution systems. Since 2008, many notable M&A transactions between international groups and local drug producers have been successful.

Figure: Notable M&A Case

(Source:  Fitch Solution, PHFM compilation)
In addition, public healthcare spending is funded by the state's limited budget. The number of state hospitals is larger than the number of private hospitals and most of the state hospitals are funded by the government. Vietnam has 1,451 state hospitals, which are divided into hierarchy levels: Central, Provincial, Community, and Industrial. The number of private hospitals is 219 hospitals. Provincial hospitals do not have modern facilities and equipment because of restricted budgets. Consequently, the quality of service in these hospitals is not enough to meet the patients' demands.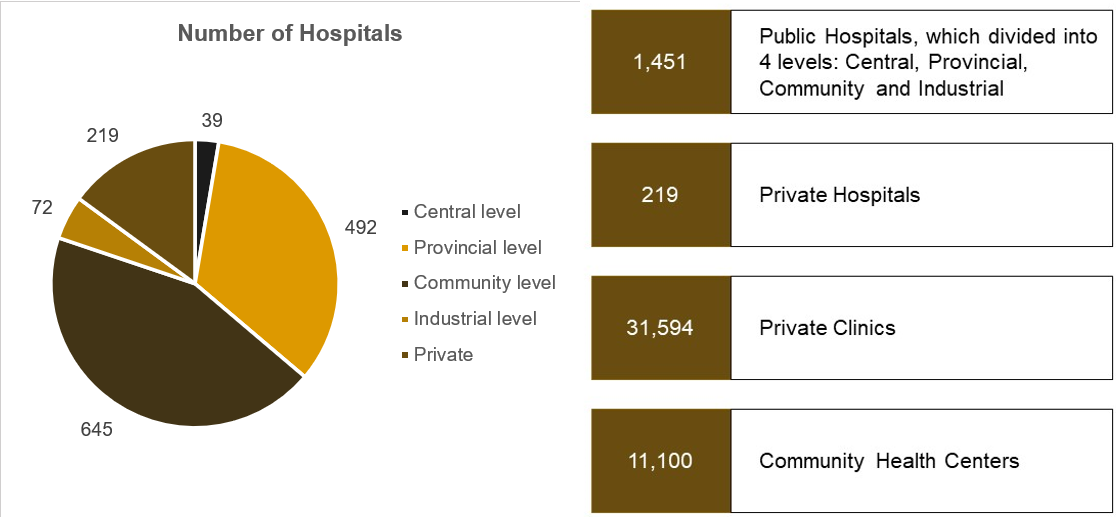 (Source: Vietnam Department of medical service administration, VTV)
Economic growth and demographic changes in Vietnam are driving increasing demand for healthcare services, not just in the two traditional economic centers – Hanoi and Ho Chi Minh City – but also in several second-tier cities and provinces. In Binh Duong and Dong Nai (Southern Vietnam), there are Becamex International Hospital, Hanh Phuc Hospital, and Shing Mark. In Thai Nguyen (Northern Vietnam), there is Thai Nguyen Hospital (Ticker: TNH).
Although the main distribution of medicine in Vietnam is through the hospital channel, the pharmacy channel is in the fast-growing stage. The hospital channel accounts for 74% of the total revenue. The remaining is the pharmacy market. Nationwide pharmacy chains are set to capture more market share through their aggressive expansion plans. As the scale of these nationwide chains widens, their bargaining power with suppliers will strengthen, which in turn will allow them to negotiate more favorable purchasing prices. Revenue per store of Long Chau Chain (FPT Retail – FRT) in 2021 was estimated at VND 13.3 bn (+50% YoY), and Pharmacity chain was estimated at VND 5.5 bn (+10% YoY). Modern pharmacy stores will compete with mom-and-pop shops when the medicine price remains the most influential factor in their purchase decisions (YouNet survey). However, in the future, when the income rises, factors such as service quality, medical consulting capabilities, product variety, and customer loyalty programs will become increasingly important and support the growth of nationwide chains.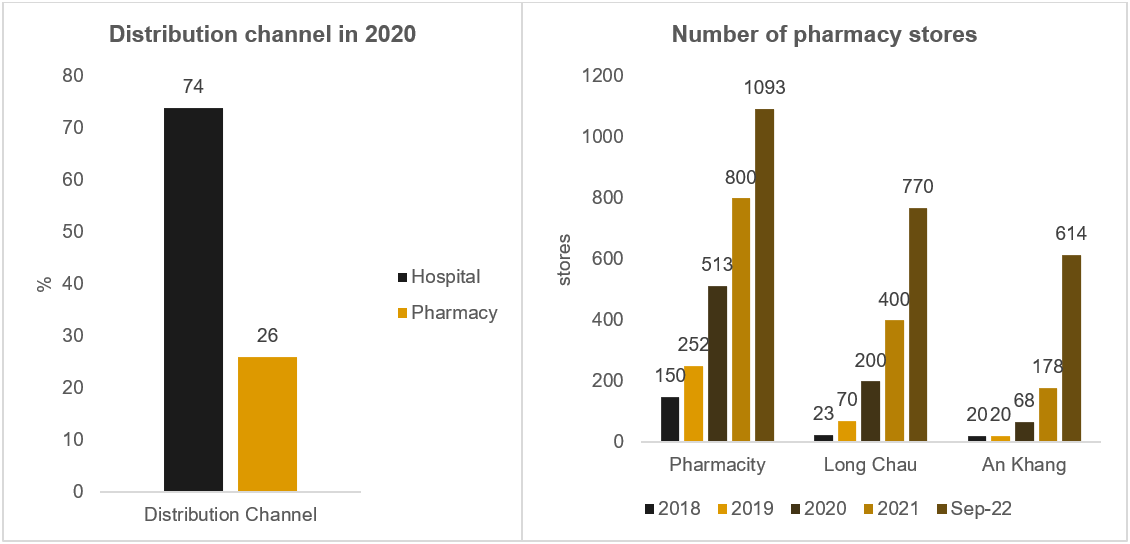 (Source: Pharmacity, FRT, MWG, VCSC, PHFM compilation)